Double Action Bingo Paper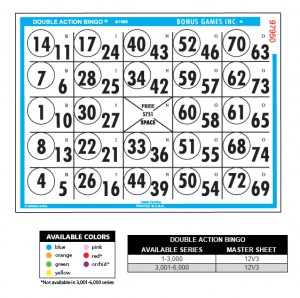 Double Action Bingo Paper is simple to play – just say "EITHER NUMBER CALLED, MARK THE SQUARE" and play the patterns you normally use.
Fast play = more games; increased games x more sales = bigger profits!
Seven bright colors – blue, orange, green, yellow, pink, red and orchid
Simple to play – Dab the square when either number is called
Large, easy to read numbers
Available in 1ons, 3ons and booklets
To view a larger image of the Double Action Bingo Paper, click on paper image.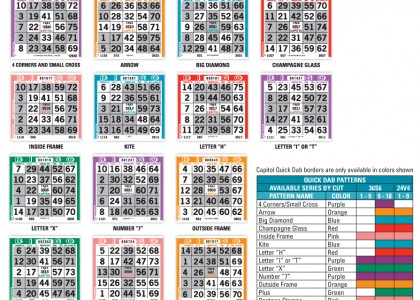 Quick Dab Pattern Bingo Paper is great for Early Bird and Progressive games! Special games add fun and variety to your bingo night!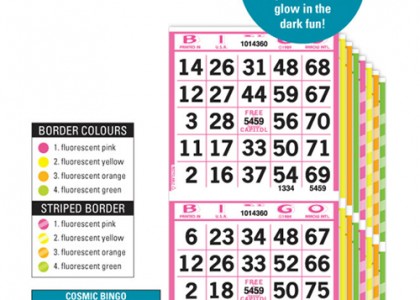 Get ready to go cosmic with Fluorescent Bingo Paper! This bingo paper has 8 colors to choose from and both the border and grid are fluorescent. Check out the Cosmic Bingo Ink Daubers too!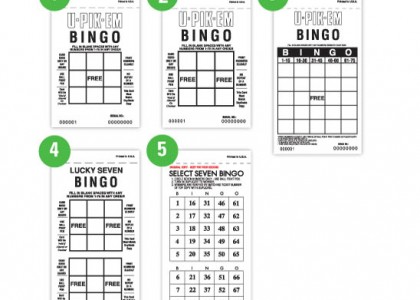 U-Pik-Em Bingo Paper is great for early bird specials, a jackpot game, intermission game or night owl game! Contact us for minimum quantities and delivery requirements.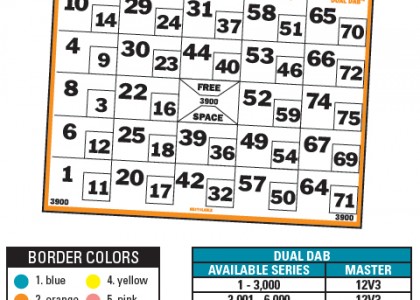 Games play faster - with each ball called players have TWO chances to dab and win!
VIEW SOME OF OUR PRODUCTS
CONTACT DETAILS
2300 S. Tejon Englewood, CO 80110
800-443-1395
303-727-8777