King's Crown Ticket Dispenser
King's Crown ticket dispensers allow you to offer a wide variety of tickets to play all the time.
Stock your King's Crown Ticket Dispenser full with your choice of 1 window, 3 window and 5 window pull tabs, and change them as often as you like. Your players will thank you for giving them the option to purchase the tickets of their choice, and at their convenience.
King's Crown Ticket Dispenser Features
Completely secure and easy to maintain
Quick and easy transactions
Compatible with a wide variety of tickets
Accurate sales recording for easy tracking
Easy access to accounting functions
Quick front-loading ticket slots
Dispenses 1, 3 and 5 window tickets directly below the column, in individual outlets
Variable pricing per column
Individual modular ticket columns are easily removable for removable for service without affecting the operation of other columns
Separate locks for cash and tickets
PIN number access for additional security
Menu-driven operation
Wall, stand or table mounting
Optional cabinet available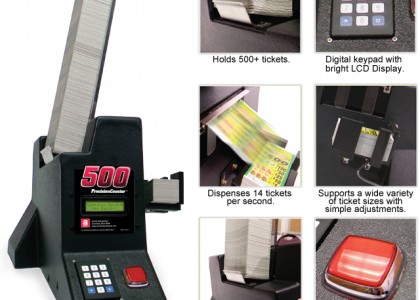 The PrecisionCounter™ 500 is easy to use and program, dispensing 14 tickets per second.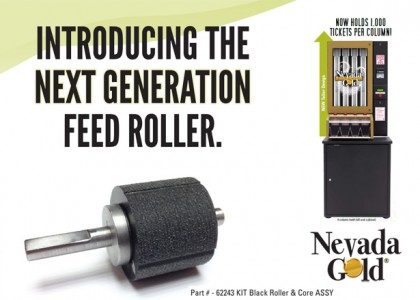 The Next Generation Roller for Nevada Gold® ticket dispensers is an upgrade to the current rollers that have been in the field for decades. The Next Generation Roller significantly enhances the ability of the back feed roller to dispense tickets...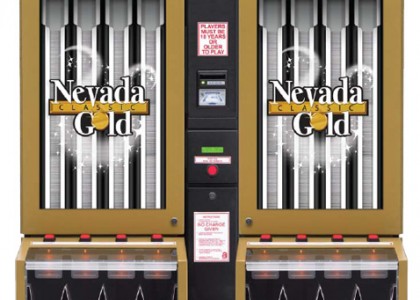 Nevada Gold Bingo Ticket Dispensers are the fastest dispensers in North America, dispensing 7 tickets per second! Now that's fast!
VIEW SOME OF OUR PRODUCTS
CONTACT DETAILS
2300 S. Tejon Englewood, CO 80110
800-443-1395
303-727-8777