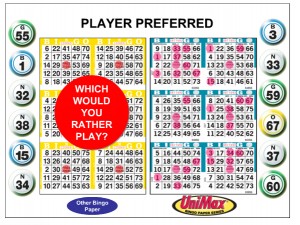 It is easy to see why UniMax is the Player Preferred Bingo Paper!
To view a larger image of the UniMax Bingo Paper, click on paper image.
All 75 numbers appear at least once on every 6on book and at least twice on every 9on book!
More dabbing means more fun and increased sales of paper and bingo daubers
More game involvement, excitement and action draws new players and keeps regular player interest high
The numbers are easier to read due to the half size border, reducing eye strain
Bingo Operators prefer Unimax!
Each series is identified with a unique symbol in the "O" of bingo, for easier identification at a glance by your workers.This helps to eliminate "sharing" of buy in packages!
Secondary Free Space makes verification easy and adds integrity to your bingo.
The Auditrack System helps to quickly and accurately track sales and inventory. Each booklet is consecutively numbered, making end of session counts simple!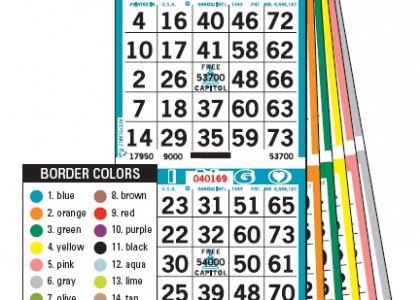 With over 30 colors to choose from, Capitol bingo paper allows you to create your own special collation that meets YOUR bingo's needs!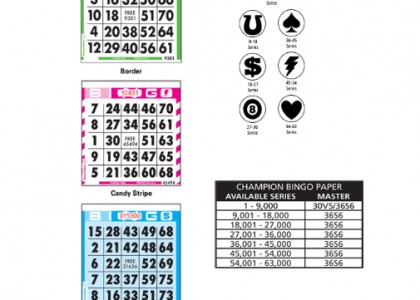 Mix & match Champion standard border, candy stripe border and screens for both special and extra sales.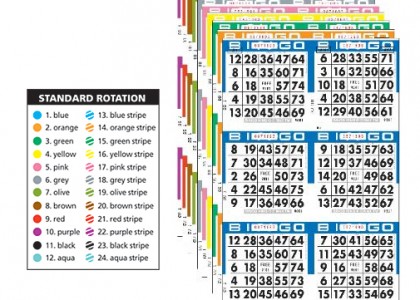 C MAX Bingo Paper has common serial numbers for each set makes tracking serial numbers easy and eliminates illegal paper and missed revenue.
VIEW SOME OF OUR PRODUCTS
CONTACT DETAILS
2300 S. Tejon Englewood, CO 80110
800-443-1395
303-727-8777